Active Projects and Plans
SSMCP takes on projects to advance infrastructure and regional improvements that support military readiness and the communities neighboring Joint Base Lewis-McChord.
SSMCP projects encompass land use, infrastructure, traffic, community relations, child care, housing affordability, and economic development.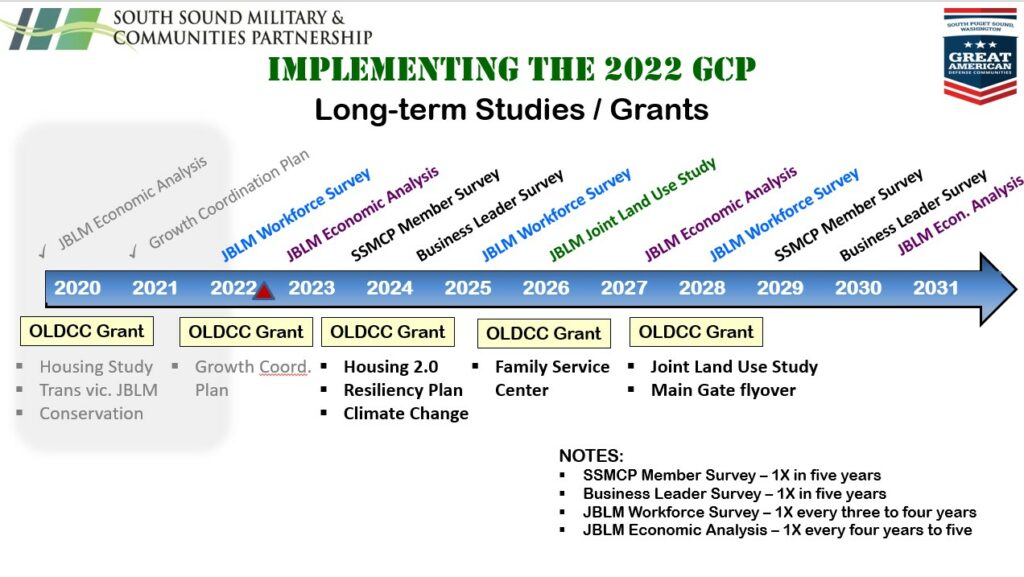 Current Projects Include:
Occupational Licensure Improvements
SSMCP 2023-24 Work Plan
The South Sound Military & Communities Partnership is committed to bringing military and community members together on a regular basis to share information about current and future projects and to seek funding for infrastructure and other needed regional improvements.
Manage federal grant funding to:

Improve resiliency planning*
Advocate for Occupational Licensure: ID barriers to mil spouse employment
Support Development of and Access to Attainable Off-base Housing

Pursue Funding for I-5 improvements
Pursue military compatibility measures such as clear zone encroachment
Measure and Communicate the Economic Benefits of JBLM in the Region
Increase communication between JBLM, Child Care providers and military families
Inform/educate state legislators about SSMCP and advocacy in state-level activities
Conduct statewide military / defense sector economic impact analysis*
Conduct JBLM Workforce Survey
* Indicates new initiatives resulting from the 2022 GCP
---
2023-2024 SSMCP Grant Work
SSMCP has applied for a grant through OLDCC for $698,500 from DOD's Office of Local Defense Community Compatibility (OLDCC) to carry out three key initiatives within our 2023-2024 Work Plan.
Military Installation Resiliency Review- The core purpose of the MIRR is to identify the risks, hazards, and vulnerabilities of concern as it relates to the ability of the military to carry out its missions on the installation that could be mitigated through investments and solutions outside the fence line in the community. The focus of the MIRR project will involve an all-hazards approach in terms of screening threats, risks, and vulnerabilities (either natural or manmade, including from the effects of climate change and compatible use), to identify and prioritize areas of concern that should be the subject of further study and evaluation, and recommend actions or investments outside the fence line to mitigate risks of highest concern.

Housing Study 2.0- An update to the 2020 Housing Study that will compare and contrast two different housing studies, SSMCP's Housing Study from 2020 & a DOD-contracted housing study done in close proximity. Next, it will identify opportunities for collaboration and potential barriers to accessing adequate and affordable housing for active duty service members near JBLM. It will also assess opportunities for collaboration to incentivize homeowners, landlords, and property managers that could offer their properties to military families. The Housing Study 2.0 plans to also analyze how off-base housing availability and development can best contribute to lowering the backlog of military family housing need.

Military Spouse Employment Review– This review will assess the conditions state-wide military spouses face as they move to various military installations in Washington, and it will address the primary and secondary barriers experienced as they attempt to gain employment. This study will compare and contrast policies, available funding, educational opportunities, and job placement resources across every major military installation in the State and compare those with other military installations throughout the country.
As of April 2023, all three projects are underway.
---
JBLM Regional Economic Impact Analysis
A collaborative partnership between UW Tacoma's Center for Business Analytics and SSMCP concluded in June. This is the second such study between the two organizations. Due to recent growth at Amazon and Microsoft, Joint Base Lewis-McChord (JBLM) is now the fourth-largest employer in Washington State and an essential driver to the economic momentum of Washington State and the South Sound region.
The previous analysis (completed in 2018) focused on the JBLM military and civilian workforce and their economic impact on the South Sound region. This expanded impact analysis incorporates additional data related to military retirees, working military spouses and education-related spending (Impact Aid, Tuition Assistance, GI Bill funding). Further, this research integrates data from previously unavailable analytic simulations (IMPLAN) that estimate direct, indirect and induced and indirect impacts and incorporates cross-region interactions.
The final impact analysis estimates that, at the state level, JBLM's presence contributes to nearly 100,000 full-time equivalents (FTEs) who earned nearly $9B in salary/wages to produce almost $14B in gross output that translated into over $2.25 in revenue for federal, state and local governments. In Pierce and Thurston counties, over 83,000 FTEs earned over $8.2B to generate $12.1B in total economic impact and over $2B in tax revenue. For the full report to Congress, please click here
---
SSMCP Regional Funding Successes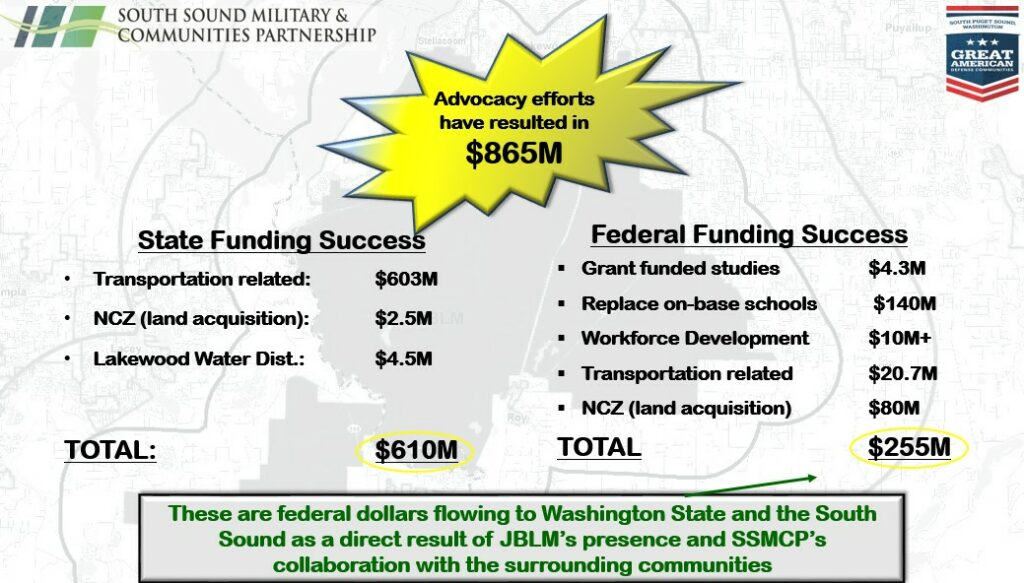 ---
---