Membership Information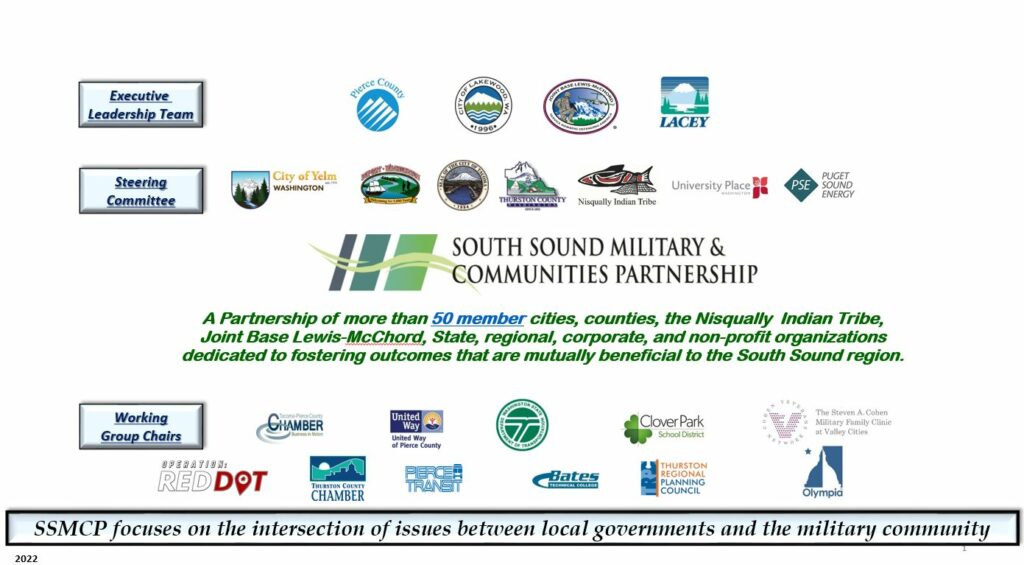 JOIN SSMCP TODAY
SSMCP Staff
SSMCP Program Director, Bill Adamson
SSMCP Program Coordinator, Maria Tobin
Who may join SSMCP?
Anyone with objectives that align with SSMCP may be eligible for membership.
Why was SSMCP formed?
Formed in 2011 by a memorandum of agreement among communities and JBLM advocates who wanted to provide a consolidated regional voice for issues.
How is SSMCP funded?
SSMCP is funded by membership dues and grants to include support from the Office of Economic Adjustment.
Does SSMCP have paid staff?
Yes. Two full-time paid staff with military service backgrounds are funded by SSMCP.
Is SSMCP a non-profit?
No. Executive Leadership Team member, City of Lakewood, serves as a fiduciary agent. The City also provides SSMCP with advice and legal counsel. This cost savings on organizational costs is not possible if SSMCP was a non-profit. Staff does make the clear designation of representing SSMCP – not the City of Lakewood.